I do lectures in English and am currently working on several manuscripts for e-books and guides in English. Contact me for more information. Here is one of the current possibilities for a seminar/workshop/demonstration.
What are we doing? Why are we doing it? Where are we going? What are our core values, purposes, messages and solutions? What is our next step?

Back to Basics: Why? What? When?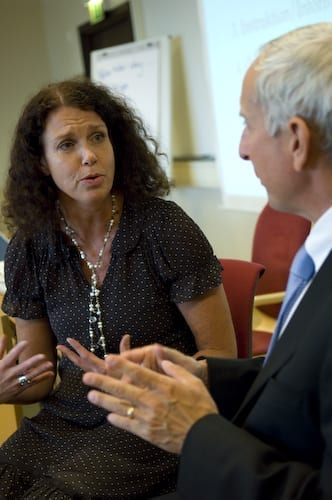 Quickly get back to basics with brief-time strength strategy interviews
John Steinberg, Ph.D. and author of over 50 books about learning, values, leadership and training, has developed a unique brief-time (5-7 minute) interview method to help people and organizations rediscover their strengths, purpose and commitments.
Society, demographics, trends, technology and markets are changing at an ever more rapid pace. Your organization has good ideas, lofty ideals, grand plans, ambitious managers, countless meetings, dozens of projects and many routines. Getting back to your "core" is one way of moving forward in these turbulent times.
Each brief 5-7-minute interview identifies a key "next step within 48 hours"-strategy. Gather your board of directors, your leaders and managers, a project group – or even your whole staff. Dr. John´s hands-on 90-minute Back to Basics Seminar demonstrates the method, explains the concept and lets participants practice interviewing each other.
The "Back to Basics" seminar can be held in English or Swedish. Dr. John can return, if you wish, for a couple of "check-ups" during the year or teach the concept and methodology in a training seminar.